The Santa Fe received 3,500 single sheathed box cars of class Bx-12 in 1930 from four builders: American Car & Foundry, Pullman Car & Mfg Corp, General American, and the Pressed Steel Car Co. The Bx-12s were a slightly larger version of the ARA standard design adopted in 1924 and were nearly identical to the Santa Fe's Bx-11 class of 1929 except for their trucks, which were Dalman one level.
During World War II, responding to a need for taller box cars, the Santa Fe rebuilt some Bx-11s and many Bx-12s with extended height roofs. At rst these cars retained their original numbers, but in 1946, to dierentiate the taller cars from un-rebuilt Bx-12s, the Santa Fe began renumbering them into the 211050-214549 series, a process which continued until about 1949. Distinctive in appearance owing to their raised roofs, these cars remained in revenue service through the 1950s and '60s and were among the last large group of single sheathed box cars to appear in interchange on the North American railroads.
When rebuilt, they were painted entirely in mineral brown, including underframe, trucks, and running boards, except that the steel roofs were coated with a gritty anti-skid black car cement. This practice continued until the mid-'50s, when the color of the anti-skid roof coating changed from black to mineral brown. Stenciling was white and heralds were black and white. A few cars rebuilt before 1944 had periods in their reporting marks - A.T.S.F. - but the periods were dropped in 1944 and the reporting marks became A T S F. Richard Hendrickson
1:48 scale kit is available for this car from Southern Car & Foundry. This lettering set was designed using artwork created by Pat Duffin and copyrighted by Protocraft.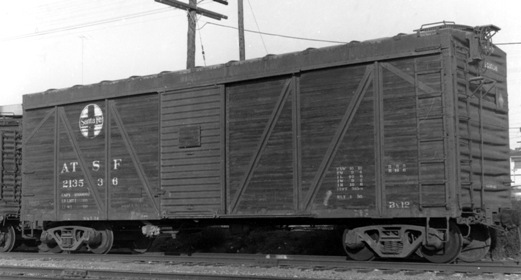 #212656 was seen here after being repainted at the Santa Fe's Pueblo, Colorado, shops in February 1955, with the 2 ft square herald applied